FAQ
Once your eye examination is complete and all the necessary tests have been done, the optometrist will give you a copy of your prescription. This contains the precise measurements of the type of prescription lenses that you will need in order to have the clearest, most comfortable vision.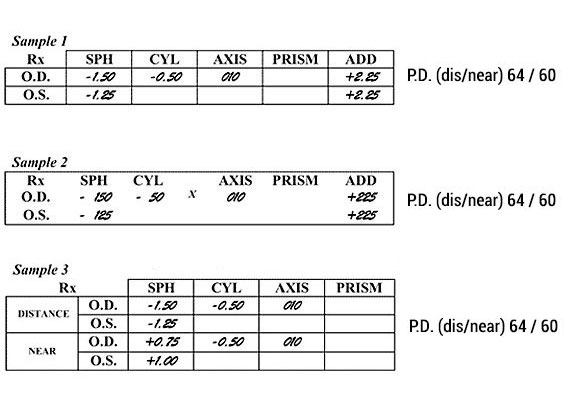 An eyeglass prescription is written in a standardized format with standardized notation so it can be interpreted worldwide. Let's look at one and break it down:
-1.50 -0.50 x 010. The first number (-1.50) tells us the spherical refractive error (farsightedness or nearsightedness). In this case, because there is a minus sign in front of the 1.50, this patient is nearsighted. A plus sign would indicate farsightedness.
The second number (-0.50) is the astigmatism. If there is no astigmatism, we generally write the letters DS or SPH after the first number to let the optician know that we didn't just forget to write in the astigmatism.
The final number (10) is the direction (AXIS) of the astigmatism. The direction of the astigmatism is measured in degrees. The number is not related to how well you can see but it helps the lab know what angle to position your lenses in the frame.
Lastly, there can also be numbers denoting the amount of near reading strength needed. If you are over 45, there may be a number where it says 'ADD'. This is your reading addition and relates to the amount of additional correction needed to focus at close distances. If a measurement is shown in this section, it means you have different prescriptions for distance and reading. Bifocal or varifocal lenses may be needed.
Pupilary Distance - PD - This is the distance in millimeters between your right pupil and left pupil. Single vision prescriptions have only one P.D. whereas; a Bifocal/Progressive prescription has two P.D. values, one for nearsightedness and other for farsightedness.
The letters OD and OS in front of a prescription let us know which eye each string of numbers is for. OD (Oculus Dexter) stands for right eye and OS (Oculus Sinister) for left eye, while OU(Oculus Uterque, Oculus Unitas or Oculus Uniter) means both eyes.
Entering your prescription on Comfort Sight is a very simple task. Just enter the details as they appear on your prescription from your professional eye care provider.

Presbyopia usually occur beginning at around age 40, when people experience blurred near vision when reading, sewing or working at the computer. You can't escape presbyopia, even if you've never had a vision problem before. Even people who are nearsighted will notice that their near vision blurs when they wear their usual eyeglasses or contact lenses to correct distance vision. Presbyopia's exact mechanisms are not known with certainty; the research evidence most strongly supports a loss of elasticity of the crystalline lens, although changes in the lens' curvature from continual growth and loss of power of the ciliary muscles (the muscles that bend and straighten the lens) have also been postulated as its cause. Like gray hair and wrinkles, presbyopia is a symptom caused by the natural course of aging.
Click here
To Duplicate Invoice Request
Eat Healthy for Good Vision
Quit Smoking for Better Eyesight
Wear 100% UV Protected Glasses and Sunglasses for Good Vision
Use Safety Eyewear at Home, at Work, and While Playing Sports
Try not to spend so much time looking at your computer screen.
Avoid wearing contact lenses for more than 19 hours.
Exercise your eyes, and also be sure to relax them.
Computer glasses are prescription glasses that are designed to wear when doing computer work. They allow you to focus your eyes on a computer screen, which is farther away than reading material is normally held. Many of us wear glasses or contacts to correct some kind of vision problem. However, most people tend to forget they may be harming their vision when they aren't wearing the proper glasses for specific situations.
Computer glasses differ from regular glasses in that they are specifically made to help reduce the eye strain associated with computer work.
The average person works approximately eight hours a day in front of a computer. These long hours make us more prone to vision-related problems. And sadly, we've become accustomed to the fact that our eyes just feel tired and irritated at the end of the workday.
The anti-reflective coating on computer glasses helps reduce the glare that bounces off the screen and light coming from the device. Glass color tinting is also a function that helps increase the screen's contrast without making it too harsh for your eyes.
Transition lenses (also known as photochromic lenses) are similar to tints in that they can reduce light to the eyes. Protecting from harsh glare of the sun, Transition lenses are a two-in-one product that eliminates the need for sunglasses. Transition lenses are clear when indoors and at night. Once outdoors, depending on the amount of UV light present, they change automatically to become darker going either grey or brown. Transitions lenses score high on virtually every count. They block 100% of the sun's harmful UVA & UVB rays. They are compatible with a wide range of frame designs. They decrease glare, reduce eye fatigue and deliver UV 400 protection.
If, you receive a defective item, or not satisfied with your glasses please fill the form below and send us the details. Once we receive the details we will get back to you and try to solve the matter at the earliest.
Click here
To Defective Item Request
Stand in front of a mirror and look straight ahead. Position the eyeglasses so the middle of the lenses are located in the center of your eyes. This is the optical center and the ideal location for your eyeglasses. All adjustments to your eyeglasses should be made to achieve this optimal position.
Level the temple arms. The temple arms extend over and around the ears and hold the frame in place. Lay the eyeglasses on a table or other level surface and if they appear crooked or twisted, manual adjustment is necessary.
For wire frames, gently bend the arms with small pliers until they are straight. Put the glasses on and observe in the mirror to see if they are correct. Wrap masking tape or electrical tape around pliers so you don't scratch your frames.
For plastic frames, the plastic on the lower arm must be heated by a warm air source, such as a hair dryer, to make the plastic pliable. Slowly move the plastic upward with your hands until it is in the desired position. Be careful using the hair dryer as you could melt the plastic. A better way is to warm a cup of water for 2 - 3 minutes in the microwave and submerge the arm of the glasses in the heated water for ten seconds.
If your eyeglasses appear level on your face but sit crooked when resting on a flat surface, this may mean that one of your ears is higher than the other. The temple arms should be bent to accommodate any differences in ear height.

Adjust the earpieces. If the eyeglasses are digging into your ears, bend the earpiece section of the arms outward. Twist the earpieces towards the head if they are too loose.
Tighten the screws on each side of the temple. Doing this will fix glasses that are sliding down your nose and will keep the lenses secure within the frames.
Fix the nose pads for comfort. If the eyeglasses sit too high on your face, the nose pads need to be moved apart. If the eyeglasses sit too low, then pinch the nose pads closer together.
Warnings
Be gentle when bending eyeglasses. Excessive force or frequent manipulation can break the frames or lenses.
This website is owned and operated by Comfort Sight. We are committed to protecting the privacy of our visitors while they interact with the content, products and services on this site (the "site"). This Privacy Policy applies to the site only. It does not apply to other websites to which we link. Because we gather certain types of information about our users, we want you to understand what information we collect about you, how we collect it, how that information is used, and how you can control our disclosure of it. You agree that your use of the site signifies your assent to this Privacy Policy. If you do not agree with this Privacy Policy, please do not use the site.
What information do we collect?
We collect information from you when you register on our site, order eyeglasses, subscribe to our newsletter, respond to a survey or fill out a form.
When ordering or registering on our site, as appropriate, you may be asked to enter your : name, e-mail address, mailing address, phone number or credit card information. You may, however, visit our site anonymously.
We do not collect personally identifiable information about you except when you specifically provide such information to us on a voluntary basis. By registering with us, you consent to the use and method of disclosure as described in this Privacy Policy.
What do we use your information for?
Any of the information we collect from you may be used in one of the following ways:
To personalize your experience

Your information helps us to better respond to your individual needs.

To improve our website

We continually strive to improve our website offerings based on the information and feedback we receive from you.

To improve customer service

Your information helps us to more effectively respond to your customer service requests and support needs.

To process transactions

Your information, whether public or private, will not be sold, exchanged, transferred, or given to any other company for any reason whatsoever, without your consent, other than for the express purpose of delivering the purchased product or service requested.

To administer a contest, promotion, survey or other site feature

In some cases, these may require interfacing with third party solutions and software.

To send periodic emails

The email address you provide for order processing, will only be used to send you information and updates pertaining to your order.
How do we protect your information?
We implement a variety of security measures to maintain the safety of your personal information when you place an order or enter, submit, or access your personal information. We offer the use of a secure server. All supplied sensitive/credit information is transmitted via Secure Socket Layer (SSL) technology and then encrypted into our Payment gateway providers database only to be accessible by those authorized with special access rights to such systems, and are required to keep the information confidential.
After a transaction, your private information (credit cards, social security numbers, financials, etc.) will not be stored on our servers.
Do we use cookies?
Yes. (Cookies are small files that a site or its service provider transfers to your computer's hard drive through your web browser (if you allow) that enables the sites or service providers systems to recognize your browser and capture and remember certain information. We use cookies to help us remember and process the items in your shopping cart, understand and save your preferences for future visits, keep track of advertisements and compile aggregate data about site traffic and site interaction so that we can offer better site experiences and tools in the future. We may contract with third-party service providers to assist us in better understanding our site visitors. These service providers are not permitted to use the information collected on our behalf except to help us conduct and improve our business.
If you prefer, you can choose to have your computer warn you each time a cookie is being sent, or you can choose to turn off all cookies via your browser settings. Like most websites, if you turn your cookies off, some of our services may not function properly.
Payment Security
We use PayPal which is one of the most secure payment platforms in the world over a decade, to ensure your payment 100% secure. All of your sensitive information will be automatically encrypt and sent between your computer and the systems of PayPal to make sure your information is kept private. Comfort Sight does not record any of your payment information. PayPal accept all major credit and debit cards.
Do we disclose any information to outside parties?
We do not sell, trade, or otherwise transfer to outside parties your personally identifiable information. This does not include trusted third parties who assist us in operating our website, conducting our business, or servicing you, so long as those parties agree to keep this information confidential. We may also release your information when we believe release is appropriate to comply with the law, enforce our site policies, or protect ours or others rights, property, or safety. However, non-personally identifiable visitor information may be provided to other parties for marketing, advertising, or other uses.
WE ARE NOT LIABLE OR RESPONSIBLE FOR THE PERSONALLY IDENTIFIABLE OR OTHER INFORMATION YOU CHOOSE TO SUBMIT IN FORUMS SUCH AS A BLOG, PRODUCT REVIEW OR ANY OTHER PUBLICLY ACCESSIBLE AREA OF THE SI
Third party links
Occasionally, at our discretion, we may include or offer third party products or services on our website. These third party sites have separate and independent privacy policies. We therefore have no responsibility or liability for the content and activities of these linked sites. Nonetheless, we seek to protect the integrity of our site and welcome any feedback about these sites.
Accessing and Updating Your Personal Information and Preferences
We provide mechanisms for updating and correcting your personal information for many of our services. If you are a registered user, you may access and update your registration information and your preferences to receive email or other communications from us by sending an email to service@comfortsight.ca
Email Choice/Opt-out
If you receive an email from the site and would prefer not to receive such communications in the future, you can do so by following the instructions in the emails. In addition, you may send an email to service@comfortsight.ca. We will make commercially reasonable efforts to implement your opt-out requests promptly, but you may still receive communications from us for up to ten business days as we process your request.
Children's Privacy and Parental Controls
We do not solicit any personal information from children. If you are not 18 or older, you are not authorized to use the site. Parents should be aware that there are parental control tools available online that can be used to prevent children from submitting information online without parental permission or from accessing material that is harmful to minors.
Disclaimer to Security
By consenting to the Terms of Use of the site and hence the Privacy Policy, you consent that no data transmission over the Internet is completely secure. We cannot guarantee or warrant the security of any information you provide to us and you transmit such information to us at your own risk.
Notification of Changes
Comfort Sight reserves the right to change this Privacy Policy from time to time at its sole discretion. If at some point in the future, there is a change to our Privacy Policy, unless we obtain your express consent, such change will only apply to information collected after the revised Privacy Policy took effect. Your continued use of the site indicates your assent to the Privacy Policy as posted.
If you have any questions or concerns regarding this Privacy Policy please contact us at
If you don't find it anything online to your need, please fill the form and we will take care of it. It could be a special order lens, and in that case, we can order it in for you. We offer a wide variety of custom or made-to-order lenses.
Please be advised that pricing and availability vary depending on your particular prescription. Made-to-order lenses can take up to 2-3 weeks before shipping.
The order can be cancelled within 24 hours from the time of order placed. Send us a message by filling out the form below and we will take care of it.
Click here
To Order Cancellation Request
Glasses can be returned within 30 days of purchase in its original condition (not worn or altered) and with all cases, clothes and other accessories contained in the order. If you made a mistake during the order, you can return them for a 50% refund to the credit or debit card or PayPal account, or for 50% store credit to exchange the glasses for a new pair. We will replace defective glasses at no charge during this 30 day replacement period.
If you feel there is a manufacturing error, return the glasses for inspection within the 30 day replacement period. If our inspection shows the glasses were made incorrectly, we will remake them for you at no charge.
Comfort Sight will refund the amount, less discounts and shipping charges, to the same account to which the purchase was originally charged. Shipping charges will not be refunded. You are responsible for costs associated with sending the return.
If you want to return or exchange your ordered glasses, please contact us first with your Order Number (required) and our customer service will provide the details about your return.
We will make refunds or exchanges within 48 hours since your returned glasses reach us. However we are sorry that we don't take the liability if your returned glasses get lost during shipping.
Send us a message by filling out the form below and we will get back to you.
Click here
To Order Status Request
Progressive lenses, often referred to as no-line bifocals, are used in eyeglasses to correct presbyopia. At around 40 years of age, most people begin to experience presbyopia, or the loss of the eye's ability to change focus to see near objects clearly. Progressive lenses make it possible to see clearly at all distances.
Progressive lenses contain different viewing portions, just like a bifocal, but they have no visible lines to separate them. Instead, progressive lenses have a smooth graduation of different lens powers. Progressive lenses provide the most natural vision possible. With progressive lenses, reading power gradually increases as you look down the lens. Because of this, not only do you have clear distance and near vision, but clear intermediate vision as well. There is no demarcation line in a progressive lens, so the lens looks just like a single vision lens.
Please fill the form below and we will get back to you.
Click here
To General Inquiry Request
Choose your frame style by clicking on the "Men", "Women" or "Children" tab found at the top of the homepage. If you know the exact frame you want, enter it in the search box found at the top right-hand side of the homepage.
You can then further refine your search by using the refine search categories on the left-hand side of the page. All of the frames that match your specifications will be displayed.
Once you have chosen the perfect frames, click "Buy Frame With Lens" and fill out the following:

What do you use your glasses for?
Enter prescription and pupillary distance
Select lens options
Purchase Your Glasses
Once you are happy with your selections, click "Add to Cart".
Upon completion of your order you will see a confirmation page with an order number. This means that your order has been received and is on its way. You will be sent an email copy of this confirmation.
Payment options will be described on your invoice.
There is no tax on prescription products.
We offer a 30 days warranty on manufacturer lens and frame defects.
What is a PD?
Your pupillary distance, or PD, is the distance between the centers of your pupils in millimeters (mm). This measurement is necessary to ensure the correct positioning of your lenses within the frame you have chosen.
To measure your Pupillary Distance (PD):
Place a millimeter ruler on the bridge of your nose.
Have a friend face you about arms length away.
Have your friend measure the distance between the centers of your pupils (the black dots in the middle of your eyes).
Or you can do it yourself simply by looking in the mirror. If you need your glasses on to do this, you can draw dots on the lenses where your pupils are (using a magic marker or highlighter); then take the glasses off and measure the distance between them.
It's simple -- like playing connect the dots!

You can also get this information from your doctor or from a licensed optician.
As a guideline:
Most adults' PD's are between 55-65.
Most kids' PD's are between 42-54.
If you had your PD measured by an eye care professional, it is possible they gave you more than one number. If they gave you two numbers and they are exactly the same (for example 31.5/31.5), you can just add them up and use that as the PD number. If they are not same they should be used as provided. If you are interested to know why you have more than one number, below is a brief explanation.

If the numbers are higher (and different), like 62/59, then the first number is your Distance PD and the second is your Near PD (for reading-only glasses).

If the two numbers are lower (and different), like 30.5/31.5, then you had someone take your PD one eye at a time (called "monocular PD").
Please fill the form below and we will replace the item.
Click here
To Missing Item(s) Request
From time to time our frames may be out of stock. If so, this will be mentioned on the frames. We cannot provide specific information on when a frame may be back in stock. In many cases, when a frame sells out, we will be unable to bring it back, so when you fall in love with a style: act fast!
We accept the following forms of payment: MasterCard, Visa, Amex, Discover and PayPal.
Comfort Sight will not accept any order that designates a shipping address outside of Canada at this point. Your order would be shipped through FedEx or DHL and will be delivered in 8 to 10 working days. In case, your shipping address is outside the delivery area of FedEx or DHL the delivery time may increase by 5 to 6 working days.
All orders include FREE SHIPPING.
If you refuse a shipment from Comfort Sight, you are responsible for and any fees associated with returning the goods to Comfort Sight. These amounts would be deducted from any refunds that you may be entitled to.
Deliveries will be as soon as possible to the address on your order. Subject to delays outside our control, the overall delivery period will not exceed 30 days.
If you order frames with single vision lenses, we will manufacture your order within 2-3 business days and then ship it to you. If you order frames with an upgraded lens option, such as tinting, progressive lenses or higher index lenses, we will manufacture your order within 5-7 business days and then ship it to you.
Please keep in mind that quality assurance technicians inspect and verify each and every eyeglass order. If your eyeglasses happen to fail quality assurance, your expected delivery time will be delayed.
Free 1.56 Single Vision Lenses
Free Scratch Resistant Coating
Free UV Protection Coating
Free Premium Anti Reflective Coating
Free Microfiber Cloth & Hard Case
Free Shipping
Yes, you can include multiple glasses with different prescriptions in your order.
You can Also Contact Us by
We will reply to your email within 24hours.

Call us: 1 800 680 0770

Sunday to Saturday, 9:00 AM – 9:00 PM, PST

Find Answers from Our FAQ

For frequently asked questions, you can find detailed answers from our FAQ section in no time.