How to read your Prescription?
Once your eye examination is complete and all the necessary tests have been done, the optometrist will give you a copy of your prescription. This contains the precise measurements of the type of prescription lenses that you will need in order to have the clearest, most comfortable vision.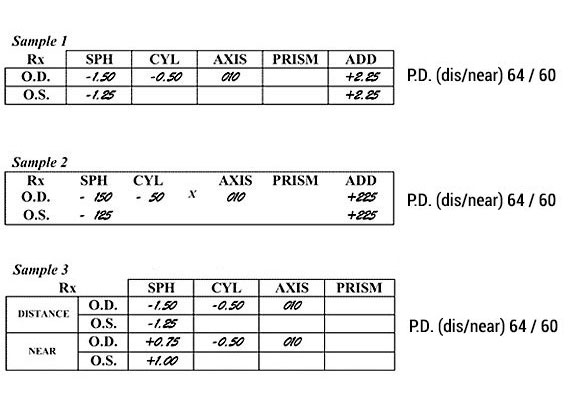 An eyeglass prescription is written in a standardized format with standardized notation so it can be interpreted worldwide. Let's look at one and break it down:
-1.50 -0.50 x 010. The first number (-1.50) tells us the spherical refractive error (farsightedness or nearsightedness). In this case, because there is a minus sign in front of the 1.50, this patient is nearsighted. A plus sign would indicate farsightedness.
The second number (-0.50) is the astigmatism. If there is no astigmatism, we generally write the letters DS or SPH after the first number to let the optician know that we didn't just forget to write in the astigmatism.
The final number (10) is the direction (AXIS) of the astigmatism. The direction of the astigmatism is measured in degrees. The number is not related to how well you can see but it helps the lab know what angle to position your lenses in the frame.
Lastly, there can also be numbers denoting the amount of near reading strength needed. If you are over 45, there may be a number where it says 'ADD'. This is your reading addition and relates to the amount of additional correction needed to focus at close distances. If a measurement is shown in this section, it means you have different prescriptions for distance and reading. Bifocal or varifocal lenses may be needed.
Pupilary Distance - PD - This is the distance in millimeters between your right pupil and left pupil. Single vision prescriptions have only one P.D. whereas; a Bifocal/Progressive prescription has two P.D. values, one for nearsightedness and other for farsightedness.
The letters OD and OS in front of a prescription let us know which eye each string of numbers is for. OD (Oculus Dexter) stands for right eye and OS (Oculus Sinister) for left eye, while OU(Oculus Uterque, Oculus Unitas or Oculus Uniter) means both eyes.
You can Also Contact Us by
We will reply to your email within 24hours.

Call us: 1 800 680 0770

Sunday to Saturday, 9:00 AM – 9:00 PM, PST

Find Answers from Our FAQ

For frequently asked questions, you can find detailed answers from our FAQ section in no time.